AMA Seine River Wine Appreciation Cruise with Doreen
March 2018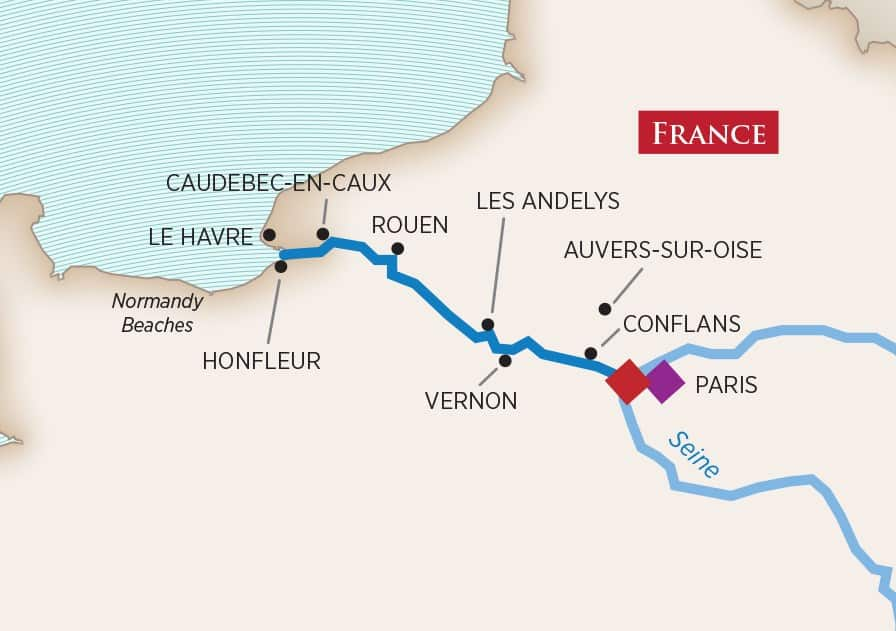 Did you know our own Doreen Kyle is the proud owner of a lovely vineyard in Missouri? Wouldn't you enjoy cruising the Seine with Doreen on an elegant wine appreciation cruise March 29, 2018?
Best of all you'll save $750 per person if you contact Doreen and reserve your cabin by November 30, 2017.
On our Paris and Normandy wine appreciation sailing you will uncork local traditions, savor intense flavors and enjoy palate-pleasing adventures as you explore wondrous and unforgettable destinations. You will have the choice to join special tours that are designed to bring Europe's rich wine heritage to life and, what's more, a dedicated wine expert will be on board (in addition to Doreen) to lead tastings and suggest pairings with our award-winning cuisine. This cruise is a one-of-a-kind way to not only see, but also to taste – don't miss this chance to indulge as you cruise along the legendary waterways of Europe. There is also an option to add two extra nights in Paris. Talk about an amazing trip!

Paris & Normandy
AT A GLANCE
Day 1, EMBARKATION – PARIS, FRANCE. Arrive in Paris, one of world's most romantic cities, and board your luxurious ship. Celebrate your exciting journey with a welcome aboard wine toast. (D)
Day 2, LES ANDELYS. Uncover the history of Château Gaillard, the former stronghold of Richard the Lionheart, situated on the chalk cliffs high above the Seine, on a tour. Or, if you prefer a more active adventure, you can hike there from the banks of the Seine, admiring the scenic views along the way. For those who wish to explore the area on two wheels, join a guided bike tour through the charming town of Les Andelys. After your adventures, set sail along the meandering Seine, enjoying the beautiful views of the Seine Valley's dramatic white cliffs and centuries-old half-timbered houses. (B,L,D)
Day 3, LE HAVRE. Visit the seaside town of Honfleur, renowned for its picturesque harbor, and for being an inspirational site for Impressionist painters. If you wish to experience a different kind of inspiration, travel along Normandy's dramatic Alabaster Coast to the Fécamp Monastery. It is there that 19th-century wine merchant Alexandre Le Grand rediscovered the recipe for a special elixir—a medicinal herbal liquor known as la Bénédictine. Originally developed by a Venetian monk, this mysterious elixir's complex flavor profile is sure to delight those who try it, which you will during your tasting. For a more active adventure, you can bike through Normandy's picturesque landscape. (B,L,D)
Day 4, CAUDEBEC-EN-CAUX – NORMANDY BEACHES. Experience the Normandy region with one of three tours. For those wishing to go to the American sector of the historic Normandy Beaches, you will visit the cemetery at Colleville-sur-Mer, Omaha Beach, the artillery battery at Longues-sur- Mer and the village of Arromanches, where the remains of the floating harbor used during the WWII landings can be seen. If you prefer, you can tour the Gold and Juno beaches in the British and Canadian sectors, where you will visit Ranville Cemetery, Pegasus Bridge, the Canadian cemetery at Beny-sur- Mer, the WWII museum in Courseulle and finally Arromanches. As an alternative experience, travel through the beautiful countryside of Pays d'Auge, surrounded by the apple orchards of the famed Cider Route. Visit the 17th-century Château du Breuil, one of the most prestigious Calvados distilleries and taste a broad range of ciders and Calvados, before visiting Cambremer and Beuvron-en-Auge, voted one of the most beautiful towns in France. (B,L,D)
Day 5, ROUEN. Spend the morning enjoying medieval Rouen with a choice of three excursions. Join a walking tour past the imposing Notre Dame Cathedral, painted numerous times by Monet, and see the square where Joan of Arc was martyred, as well as the Medieval Quarter and Great Clock. For those who wish to be more active, you can join a biking or hiking tour around the city. Later in the day, you can explore the Jewish area of Rouen; or go on the "Tastes of Normandy" tour, where you'll be treated to the delicious flavors of the region, including chocolate, cheese and cider. (B,L,D)
Day 6, VERNON. In Vernon, you will have a choice of two excursions, depending on your interests. Visit Claude Monet's home and gardens in Giverny. Art lovers will immediately recognize images immortalized in Monet's most beloved paintings—such as water lilies, Japanese bridges and graceful willow trees. Wander around his famous gardens and home where he lived for more than four decades. Afterwards, you will be taken to the 18th-century Château de Bizy, inspired by the opulence of Versailles. Enjoy an escorted tour of the salons and sample some delicious Norman cheeses, apple cider and Calvados at special tasting stations throughout the estate. If you prefer a more active adventure, go on a guided bike tour, taking in beautiful French countryside. (B,L,D)
Day 7, PARIS. Visit Paris's famous Wine Museum, located in the heart of the city, not far from the Eiffel Tower. The Wine Museum is housed in what used to be crude limestone quarries that were mined between the 13th and the 18th centuries to supply the stones used to build Paris. The three vaulted cellars, which today houses the Wine Museum restaurant, were used in the 16th and 17th centuries by the Friars of Passy Monastery for storing their wine. The museum's permanent collection contains more than 2,200 items and has been under the ownership of the Echansons Council of (Le Conseil des Échansons de France) since 1984. The collection pays tribute to generations of winemakers, cellar masters, oenologists and coopers who have relentlessly perfected their craft to produce the most prestigious vintages. The perfect way to cap off your day is with a Champagne tasting onboard. (B,L,D)
Day 8, PARIS – DISEMBARKATION. For guests spending extra time in Paris, you will be taken on a panoramic city tour and to one of the city's most renowned museums, the Musée d'Orsay. The museum's collection of Impressionist and Post-Impressionist masterpieces is the largest in the world and includes well-known works by Monet, Renoir, Cézanne, Gauguin and Van Gogh. After touring the museum, transfer to your hotel. (B)
Day 9, PARIS. Enjoy a day at leisure. (B)

Day 10, DEPART PARIS. Check out of the hotel for your return flight home. (B)